The iPhone 14 has launched and the USA models have changed drastically. They no longer come with a physical SIM card slot. Instead, they will rely on eSIM for wireless carrier network connectivity. This can potentially make switching carriers much quicker and easier.
However, there is a downside. Not all wireless providers offer support for eSIM. In fact, only a handful do. With fewer choices of providers to choose from this can potentially limit the amount of money you save on your wireless plan.
Fortunately, there are still some savings to be had. Some providers are helping to remove the concerns customers may have about switching to them by offering free eSIM trial plans. So if you have ordered a brand new unlocked iPhone 14 and are in need of a new carrier, you may want to start with one of the wireless providers listed below. Whichever provider you decide to use, you'll have to be connected to WiFi first in order to set up your trial.
T-Mobile 90-Day Data Only Free eSIM Trial
Perhaps leading the way with free eSIM trial offers is T-Mobile. T-Mobile's Network Pass will get you up to three months of totally free wireless service. Although this is the longest free trial offer available on the market, it's not a full phone plan and does come with some catches.
For starters, it only comes with unlimited 4G LTE and 5G data but it does not offer texting or phone calls. And in order to get the plan, you have to have active service with another wireless carrier. If your phone isn't already active with another carrier, you can't signup for the trial offer.
The plan itself also has a few other limitations to be aware of. Only 50GB of data each month is priority data. So customers who go over that threshold during a 30-day billing cycle may temporarily notice slower data speeds when the network is busy compared to other customers on the network. Once the billing cycle resets, subscribers get a fresh allotment of 50GB of priority data.
Finally, the plan does not allow hotspot/tethering and video streaming is limited to a resolution of 480p.
If you are interested in signing up for T-Mobile's Network pass free eSIM trial offer for your iPhone 14, I put together this list of step-by-step instructions on how to sign up.
Visible 15-Day Free eSIM Trial
If T-Mobile's free eSIM trial offer isn't the best free trial offer out there, Visible's has to be. Visible is a Verizon-owned prepaid brand.
Visible has a free 15-day trial that does not require the use of a credit card or any other payment method! You'll get unlimited talk, text, and high-speed 4G LTE and 5G data plus unlimited mobile hotspot. But there is a catch with the hotspot. Hotspot is limited to data speeds of 5Mbps and only one device can connect to the hotspot at a time.
The trial also comes with a temporary phone number to use. After the trial is over you can either keep the temporary number and make it permanent or you can port your own phone number in. You're only allowed to try Visible for free once every 12 months.
If you decide you are happy with Visible, you can either signup for their $30 base unlimited everything plan or upgrade to their $45 unlimited everything plan that adds international calling and texting, 50GB of premium data, Mexico and Canada roaming, plus Ultra-Wideband connectivity. Taxes and fees are included in the price of each plan.
US Mobile 10-Day Free eSIM Trial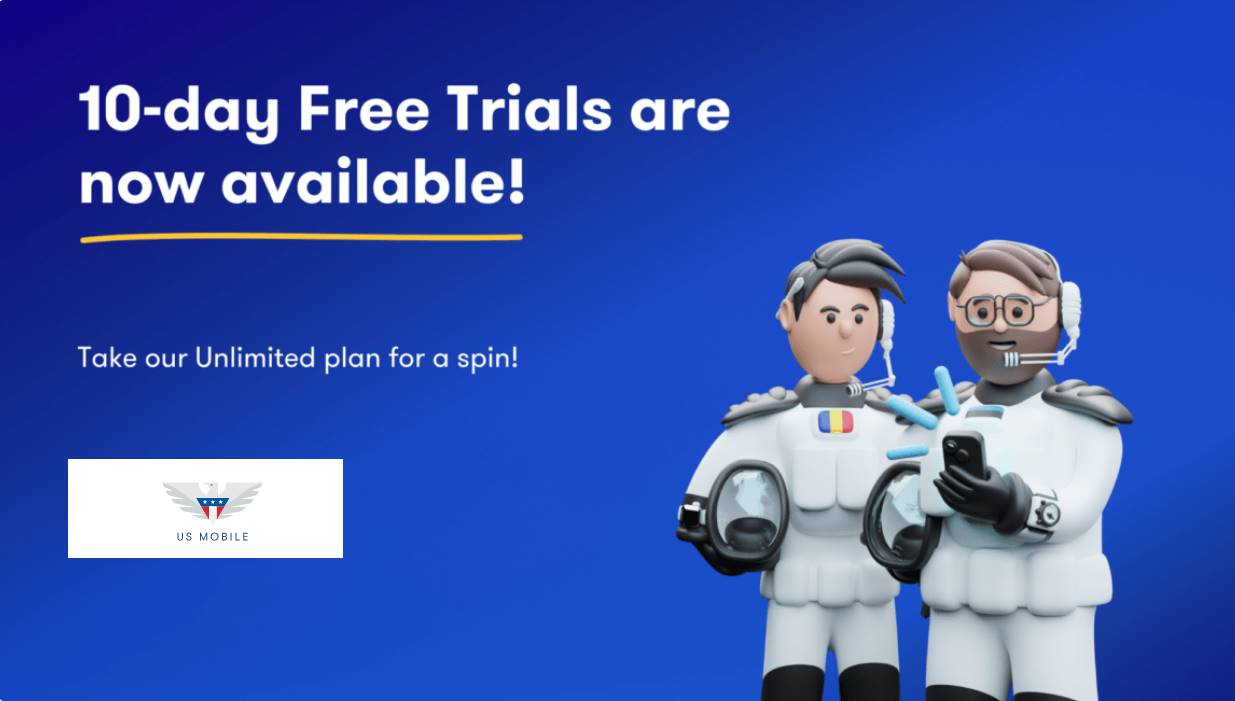 US Mobile is another provider that offers a free eSIM trial and uses the Verizon network.
US Mobile's free eSIM trial offers connectivity for 10-days. It includes unlimited talk and text with 30GB of premium priority data, which is data that doesn't slow down compared to other customers on the network when the network is busy. It also comes with WiFi calling. Just like with Visible, you don't have to port your number in to take the trial. US Mobile will give you a temporary number to use that you can either make permanent once the trial is up, or you can port in your own number.
Once the trial is up you can pick any US Mobile plan. US Mobile offers a wide variety of customizable plans. You can pick a pooled plan that starts at $9/line plus an additional $2/GB for data, a preconfigured plan such as unlimited talk and text with 12GB of high-speed data for $20/month, or a premium plan with 100GB of high-speed data and 50GB of hotspot for $45/month. Taxes and fees are extra across all plans.
Mint Mobile 7-Day Free eSIM Trial
Mint Mobile offers a 7-day free trial on the T-Mobile network. Unfortunately, their trial isn't nearly as generous as some of the others making this list. Mint Mobile's free eSIM trial includes just 250 minutes, 250 text messages and 250MB of data. If you are a speed test guru, you may run through that data after just a couple of tests. Like the other providers, you don't need to port your number over to take the trial. Mint will give you a temporary number to use. If you're happy with Mint Mobile after the trial is up, you can sign up for any plan. Mint Mobile's phone plans start at $15/month for unlimited everything with 4GB of high-speed data each month.
Red Pocket Mobile 7-Day Free eSIM Trial
Just like Mint Mobile, Red Pocket Mobile also offers a free 7-day trial. But Red Pocket's trial is on the AT&T network and is the only provider in this list to use that network for coverage.
Red Pocket Mobile's trial includes unlimited talk and text with the first 3GB of data available at up to 5G data speeds before throttling. It is for new lines only or customers that port a number in. You may have to be a little more careful with this trial though. Once the trial ends Red Pocket Mobile will automatically bill you $20/month to continue on that plan.
If you are unhappy with the service, you can of course cancel the trial and plan before it ends to avoid being charged for it. You can also switch to a more premium and flagship plan. Red Pocket Mobile's flagship plan costs $50/month for unlimited talk, text, and high-speed data. The first 100GB of data on the plan is available at up to 5G data speeds before throttling to 2G data speeds.
At the time of this writing, Red Pocket Mobile's free trial offer has been temporarily suspended. But it may be reinstated at any time.